Measurement of emission in real traffic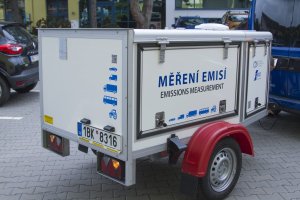 Air pollution is caused by a number of sources, including road transport. In order to determine the contribution of transport to production of pollutants, the real driving emission measurements are the most suitable. In contrast to homologation measurements, which determine emission factors of new vehicles, for the knowledge of the real impact on the environment it is necessary to monitor production of pollutants by vehicles operated short-term to long-term, when gradual deterioration, related to the period and way of use, is reflected in the emission production.
The department activities focus on measuring limited and non-limited pollutant real driving emissions. Measurements in real conditions are also preferred by EU bodies, which call to research institutions with a requirement to intensive data collection. Particularly in case of non-limited pollutants, it is still little explored issue encountering insufficient data and knowledge base. In the field of the method determination of emission factors of these substances with the use of data from real driving emission measurements, it allows their classification into different types of traffic (e.g. urban, rural, motorway). For this reason, a unique mobile device is used, developed in cooperation with Transport Research Centre and company SEKO Brno, s.r.o.
The measurement results can be used for production of conception materials in the field of clean mobility and sustainable transport, designs, setting and evaluation of economic and fiscal tools in road transport. The use of measured data helps to complement activity data served to processing emission inventory in the Czech Republic, which are reported at the international level. The measurement device offers a wide range of uses for research and development activities; see mobile laboratory offer.
Issue guarantor:
Projects
Development and Use of Device to Collect Exhaust Fume Samples and Measurement of Motor Vehicles Emission while Driving – TAČR ALFA
New Methods of Determination of Emission Factors and Total Costs within Heavy Vehicles Lifespan in accordance with Directive 2009/33/ES on Support of Clean and Energy-efficient Road Vehicles – TAČR ALFA
Inventions for Transport: Improvement of Performance of Mobile Device for Exhaust Gases Collection – TAČR GAMA
Determination and Evaluation of Emission Characteristics of Passenger Vehicles and Light Commercial Vehicles in Real Traffic – Ministry of Transport
Determination and Evaluation of Emission Characteristics of Light Vehicles and Buses in Real Traffic– Ministry of Transport
Centre for Effective and Sustainable Transport Infrastructure (CESTI) - TAČR
Services
ENVIROX – Technical, economic and environmental aspects of application fuel additive Envirox in operation of ground military technology of the Army of the Czech Republic
Analyses of effects of fuel conditioner on engines and its emission characteristics