Sustainable transport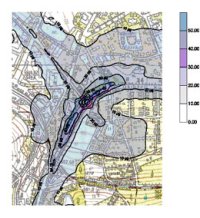 In the context of increasing environmental burdens and negative impacts on human health, the issues of sustainable development of a society comes forth, which aims to create conditions for the maintenance of needs of the present generation, without jeopardising the possibility of meeting the needs of future generations. Within this department, primary data are compiled and background information and case studies prepared. On the basis of the acquired information, we subsequently prepare expert opinions, studies and analyses for the needs of state administration bodies, local governments and private organizations.
The activity of this problematics is mainly focused on the establishment of indicators of sustainable transport development, particularly on calculations and the assessment of trends. Voluntary tools (EMAS, IPPC) are implemented, environmental education and training provided, and an evaluation is prepared of the external costs of transport, including the losses of human lives.
The department deals with the issues of wastes in transport and fragmentation of habitats caused by transport infrastructure. Experts processed expert opinions as starting materials for decision-making processes and forensic expertise.
Guarantor issues:
Projects
TRANSGREEN - Green and Grey Infrastructure in the Carpathians
The use of Indicators for the Assessment of the Regional Development of Sustainable Transport
Landscape fragmentation
Proposal for the new system of quantitative soil protection in the Czech Republic with respect to multifunctional use - optimalization model for assessment critteria in land use planning, legislation and economical tools
Quantification of External Transport Costs in the Conditions of the Czech Republic COST, INGO
COST 356 Environmentally Sustainable Transport in the Sensitive Areas – Assessment and Implementation
INGO - Support to CDV's Involvement in the SEI Working Group "Environment and Transport"
INGO - Support to CDV's Involvement in the Pan-European Programme Transport, Health and Environment (THE PEP)
ASsessing SEnsitiveness to Transport –ASSET
COST 350 - Integral Assessment of Ecological Impact of Road infrastructure
Services:
establishment of indicators of a sustainable development of transport
preparation of documentation EIA / SEA
implementation of voluntary tools (EMAS, IPPC)
environmental education and training
preparation of expert opinions as starting materials for decision-making processes
forensic expertises