Modelling Transport Emissions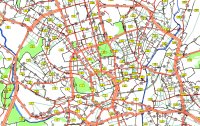 In the field of modelling emissions we focus on national, regional and local levels. We produce air quality studies connected to air pollution from transport and background data for complex air quality studies. The department is responsible for national emission inventories for more than 25 pollutants, including greenhouse gases, prognoses of trends, and evaluation of feasibility of meeting emission targets. We deliver outcomes for Sustainable Urban Mobility Plans (SUMP) and produce Sustainable Energy Action Plans for Transport (SECAP, SEAP).
Not only the modelling includes the evaluation of trends, but also design of measures that lead to reduction of emission production (e.g. congestion charge, public transport development, design of Park & Ride and Bike & Ride systems, introduction of public multimodal logistic chains, etc.) within regional programmes for reducing emissions and imissions. In addition, we develop specific model solutions, such as calculations of emission from cold starts, calculations of emissions depending on speed and capacity of traffic flow, delays at junctions, etc.
We use the following software for our work: COPERT 5, COPERT Street Level, MEFA, HBEFA, SYMOS, ArcGIS, QGIS
Issue guarantor:
Projects
Emission Data from Transport (emission modelling on the road network of Slovakia) – SHMÚ
Production of annual inventories of greenhouse gas emissions and other pollutants for the Czech Republic – ČHMÚ
Analysis of Charging and Taxation of Vehicles– R&D Ministry of Transport
Introduction of COPERT 5 Programme for Calculation of Road Transport Emissions in the Czech Republic– R&D Ministry of Transport
Development of Methodologies for Reporting Emissions and Sinks of Greenhouse Gases and their Projections, including Projections of Traditional Pollutant Emissions– R&D TAČR
Research of Suitable Modifications of Junctions in Relation to Capacity and Environmental Impacts – R&D TAČR
Testing of Potential CO2 Emission Reduction based on Changes of Traction and Line Electrisation on Railway Network of Railway Administration – RA
Sustainable Mobility Plans for Towns of Písek, Litoměřice, Trenčín and others – Municipal authorities
Sustainable Energy Plans – Ostrava, Brno, Litoměřice, Liberec – municipal authorities
Time Accessibility as Transport Indicator of Uncontrollable Urban Sprawl – R&D Ministry of Transport
Programme for Improving Air Quality of the Statutory City of Brno – city of Brno
Services
calculations of emission flows from transport,
emission inventories and prognoses in relation to transport trend scenarios, including meeting national and regional emission caps,
production of programmes for reduction of transport emissions, plans for air quality improvement,
evaluation (modelling) of effectiveness of designed measures to improve the environment,
analysis of time accessibility by public and car transport,
production of dispersion studies,
production of expertise as source materials for decision-making processes,
production of sustainable urban mobility plans (SUMP) and energy action plans (SECAP, SEAP).